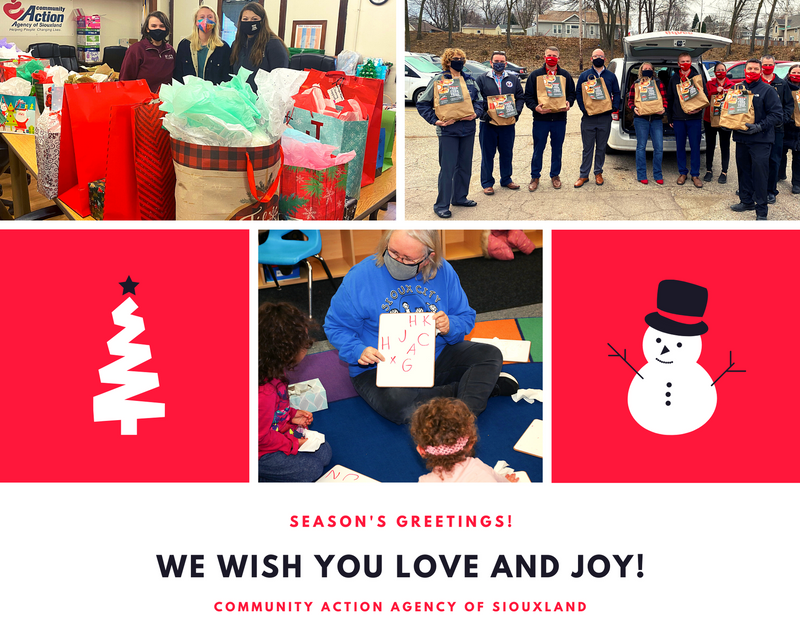 The holiday season is upon us.  It is a time to reflect and have hope for the new year.  For many Siouxland families this year has been especially difficult due to the COVID-19 pandemic.  At Community Action Agency of Siouxland we have remained open so we could help individuals and families when they needed it the most.  We have had to pivot and change the way we provide services. In spite of that, we have helped nearly 14,000 individuals as they work towards self-sufficiency. 
We know that we could not have done it alone.  We want to commend each one of our staff members for being resilient and flexible as we navigate through this pandemic, and all the changes that have come with it. We are also grateful to our Board of Directors for their constant support and leadership.  We are fortunate to have more than 150 partners to help us with our mission in alleviating the conditions and causes of poverty.  Finally, to all of our donors, we cannot thank you enough for your generosity throughout the year. This holiday season, we provided gifts to more than 600 children. Thank you for all your donations, the holidays will be a bit brighter for families. Together, we are "Helping People. Changing Lives." 
From all of us at Community Action Agency, Happy Holidays and Happy New Year!
New Year, New Website
We are excited to share with you the launch of our new website. Our goal with this new website is to provide an easier way for visitors to learn about the services we offer.  At Community Action Agency, we provide a wide-variety of services for low-income individuals and families.  That is why it is important to us our website be interactive so we can provide better access to the information. No matter if you are on your cell phone or a desk top computer, you will be able to view all our programs with ease.  As the pandemic continues on, we also know there is a greater need to be able to apply online for assistance or send in important documents.  With the new website, our clients will be able to do this much easier. 
This new website was made possible through a grant from the Siouxland Recovery Fund. We are grateful to have their support to help our families and community.
How You Can Help
As this year comes to a close, we hope you will consider donating to Community Action Agency into the next year.  We truly could not do what we do without you. It is through your generosity that families are building stronger bonds and becoming more self-sufficient.  We are excited to share with you can now donate right on our website. To learn more, click here.
During This Pandemic We Have Helped...
We have been fortunate to be able to help thousands of individuals since the pandemic began.  See how your support has helped them.
Individuals helped with food and personal/household items

Individuals helped in Fiscal Year 2020

Households helped with utilities/water
To ensure everyone's safety, we ask that you stay home if you are feeling ill or have tested positive for COVID-19.  You can call our agency at 712-274-1610 and we can deliver the items you need to your home.