Distributing Food to Siouxlanders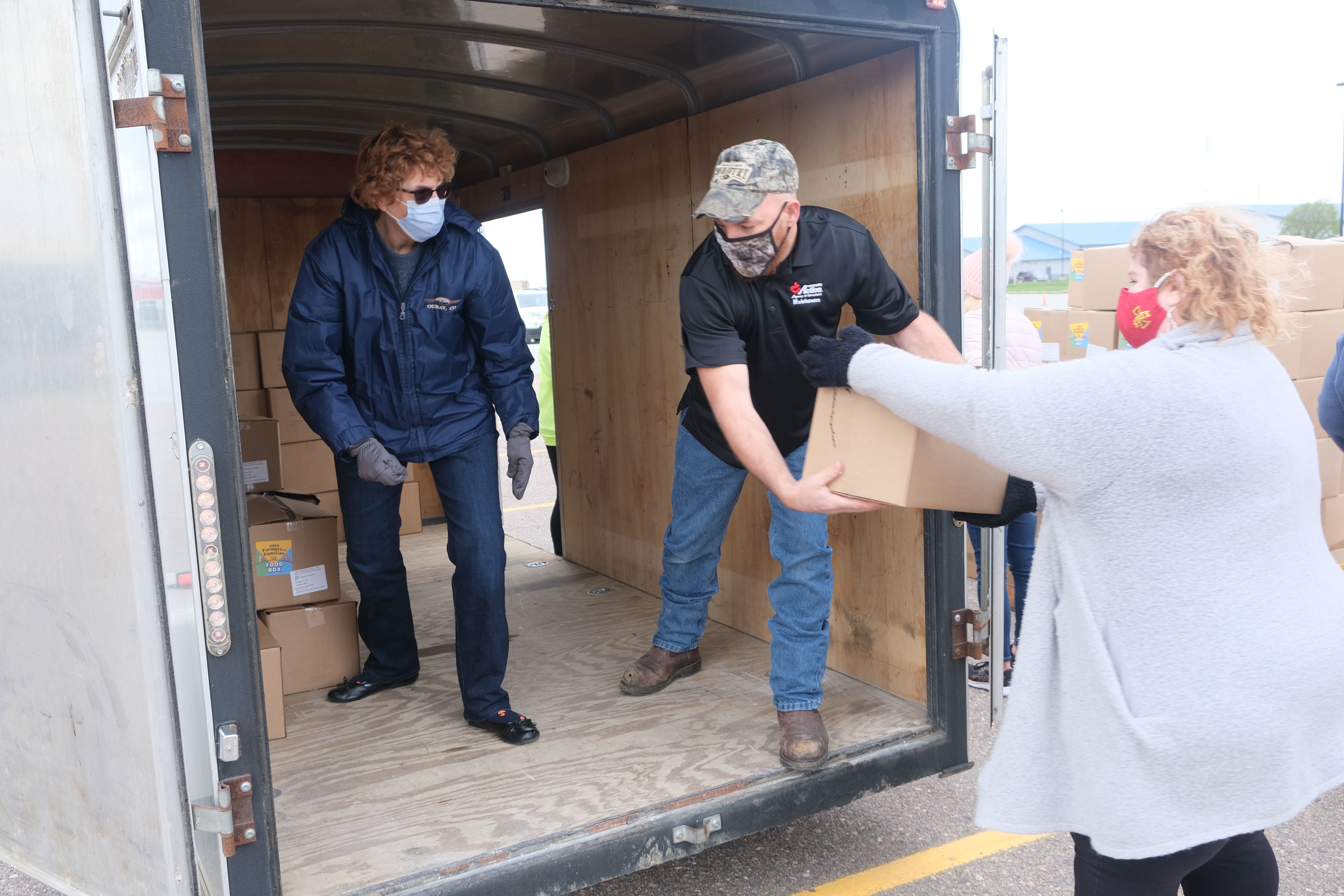 Since it began, the Farmers to Families Food Box Program has distributed more than 171 million food boxes across the country.  This program is sponsored by the U.S. Department of Agriculture.  We have been so fortunate to take part in three separate events, right here in Sioux City.  In partnership with Iowa State University Extension and Outreach - Woodbury County and Sunnybrook's Hope Center, we have distributed more than 3,200 boxes to individuals and families across Siouxland.  "Food insecurity has remained high in Siouxland throughout the pandemic, said Jean Logan, Community Action Agency Executive Director.  "Farmers to Families food boxes allow us to be the conduit between those that produce the food with those that need it."  Fresh produce, milk, dairy and meats products were inside each box that was given out. Along with providing boxes to the public, non-profit organizations and churches were also able to load up boxes and bring them directly to those they serve.  We could not have done any of these events without our volunteers and the help of the Sioux City Police Department.  We are so grateful to each and everyone for rolling up their sleeves and helping to make each event run smoothly and efficiently.  This food box program will end on May 31, as it was designed as a temporary, relief effort during the COVID-19 pandemic.  To learn more about the Farmers to Families Food Box Program, click here.
Keeping Homes Cool
As the weather gets warmer so does the temperature in our homes.  As part of our Energy Crisis Intervention Program (ECIP), we are providing air conditioners to eligible households this summer.  To qualify for a new air conditioner, households must meet the following qualifications: Not received an air conditioner from this program in the past five years, have medical condition that is worsened by the heat, have an income that is at or below 200% of the federal poverty guideline, central air is not working and permission from the landlord (if you are a renter). 
Through this program, eligible households can also get help with their utility bills. To learn more about ECIP, please click here.
How You Can Help
May is Community Action Month.  While we celebrate every day, we want to take a moment to thank all of the donors.  It is through the generosity of our donors that we are able to help more than 13,000 individuals and families become more self-sufficient.  We truly could not do what we do without you. With your help, families are building stronger bonds and individuals are getting back on their feet.  To learn more about how you can donate to us, please click here.
How We Are Helping Others...
Here is how many people we have been able to help since the start of our fiscal year on October 1, 2020.
Individuals helped with food, clothing and personal/household items

Individuals helped with ECIP

Food boxes given away
To ensure everyone's safety, we ask that you stay home if you are feeling ill or have tested positive for COVID-19.  You can call our agency at 712-274-1610 and we can deliver the items you need to your home.