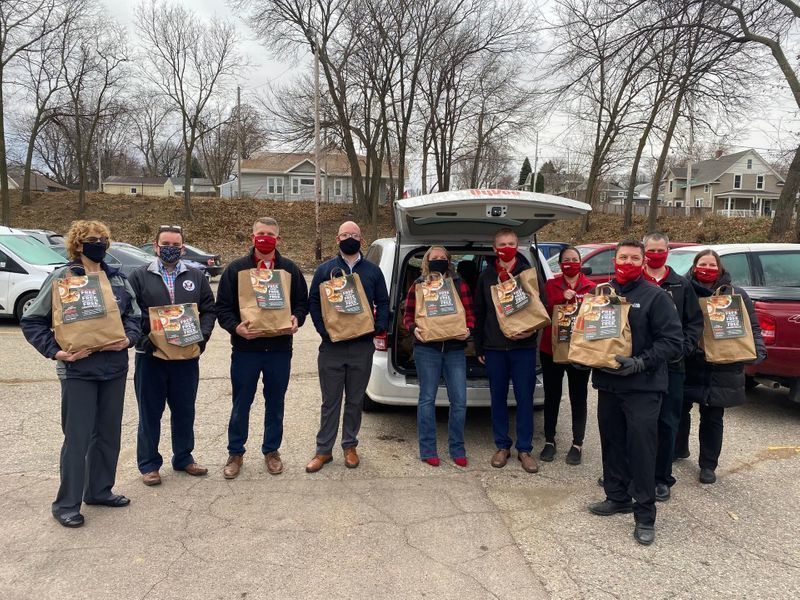 Thanksgiving Meals for Families
Thanksgiving is a time to share gratitude to those who have made an impact in your life.  Here at Community Action Agency of Siouxland and the families we serve, we are so grateful to all of our partners who have stepped up this Thanksgiving holiday to help hundreds of our families have a great meal.  Hy-Vee Stores, Inc. recently donated 200 meal packages for our families, just in time for Thanksgiving.  Each package contained vegetables, potatoes, stuffing mix and coupons for a free turkey, pie and rolls.  From there, our team members delivered these meals to families in the community.  "I... cried, but I was happy that was one less worry," said one family member. "I wasn't sure how I was going to make it through the next week, plus Thanksgiving."
We also want to extend our gratitude to the city employees in Sioux City.  They adopted some of our families, and purchased them all the necessary ingredients for a perfect family feast. 
A special thank you goes out to Seventh-day Adventist Church for also donating food for our families.
Finally, thank you to Sacred Heart Church for donating gift cards so our families could purchase what they need to celebrate this Thanksgiving.
We cannot thank these special partners enough for their generosity and "Helping People. Changing Lives." 
Click on the link below to see the generous donations for our families.
Helping Parents Further Their Education
The focus in our Head Start and Early Head Start programs is to make all children reach their goals in the classroom and achieve milestones with their social and emotional health. However, furthering a parent's own education is also a priority for our programs.  We have partnered with Western Iowa Tech Community College to promote its Last Dollar Scholarship. This program offers the opportunity for our parents to earn training certificates in more than 30 different career fields.  To those that are income eligible, these certificates can be earned for free.  Several of our parents have been utilizing this program to help them advance in their careers.  One parent in particular is even working on her second certificate since there is no limit on how many certificates they can attain. "This program has been so great for me," she said. "Being able to have this opportunity will help not only further my career, but also improve my finances which will help my family be successful." To learn more about The Last Dollar Scholarship you can click here.
How You Can Help
We want to take this opportunity to thank everyone who donated to our Virtual Auction during the Siouxland Sleep Out.  This was the first time for us doing a virtual event.  Thanks to the generosity of everyone who participated, we raised more than $3,000 for our Welcome Home program that helps to temporarily shelter homeless families. 
We are also excited to share that we will be taking part in Giving Tuesday which is set for December 1.  This event was started in 2012, as a global movement to encourage people to give, collaborate and celebrate diversity.  
During This Pandemic We Have Helped
We have been fortunate to be able to help thousands of individuals since the pandemic began.  See how your support has helped them.
Individuals helped with food and personal/household items

Families enrolled in Early Childhood Programs

Households helped with utilities/water
To ensure everyone's safety, we ask that you stay home if you are feeling ill or have tested positive for COVID-19.  You can call our agency at 712-274-1610 and we can deliver the items you need to your home.